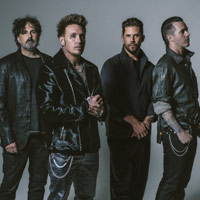 Neck-snapping, rap-rock thrash band Papa Roach have been churning out their crunching power-chords since the release of their first major-label record, the 2000 now triple-platinum album 'Infest'. The band's success rose again with the 2002 follow-up, gold album 'Lovehate tragedy' and their platinum album 'Getting Away with Murder' in 2004. 'The Paramour Sessions' and 'Metamorphosis' followed in 2006 and 2009 respectively before the band's seventh studio offer, 'Time For Annihilation', was released in August 2010.

All of those albums have helped Papa Roach sell over 14 million records worldwide with their songs '...To Be Loved', 'Last Resort', 'She Loves Me Not', 'Scars', 'Forever', and 'Lifeline' regarded as their greatest hits to date.

Compare & track Papa Roach tour dates and ticket prices at Stereoboard! Finding the cheapest tickets for Papa Roach events is quick and easy - we search the major UK ticket agencies and resale exchanges, including Gigantic, Eventim, Stargreen, Ticketline, GetMeIn, Seatwave & Viagogo - to bring you the cheapest prices for Papa Roach tickets, even if the Papa Roach event is sold out!
INTERNATIONAL EVENTS

Wednesday 12th June 2013

Leipzig, Germany



Premium

Papa Roach


Leipzig, Haus Auensee

from


£

45

.47



Premium

Papa Roach


Leipzig, Haus Auensee

from


£

46

.65

Wednesday 26th June 2013

Tilburg, Netherlands



Premium

Papa Roach


Tilburg, 013 Dommelsch Zaal

from


£

37

.81



Premium

Papa Roach


Tilburg, Dommelsch Zaal

from


£

41

.75

Thursday 27th June 2013

Berlin, Germany



Premium

Papa Roach


Berlin, Huxley's Neue Welt

from


£

42

.39



Premium

Papa Roach


Berlin, Huxley's Neue Welt

from


£

43

.53

Sunday 30th June 2013

Freiburg, Germany



Premium

Papa Roach Zelt Musik Festival 2013


Freiburg, Zelt-Musik-Festival - Zirkuszelt

from


£

47

.40

Tuesday 2nd July 2013

Dornbirn, Austria



Premium

Papa Roach


Dornbirn, Dornbirn Conrad Sohm

from


£

42

.39



Premium

Papa Roach


Dornbirn, Conrad Sohm

from


£

43

.53
Stereoboard partners with trusted primary and secondary ticket sellers to compare Papa Roach tickets. The companies we work with have a registered office, provide contact details and offer prompt Money Back Guarantees. Purchasing Papa Roach tickets through Stereoboard.com is always safe, secure and risk-free!
We cannot vouch for the authenticity or reliability of any eBay sellers, we'd strongly advise you to thoroughly check the feedback and selling history before making a purchase. A bargain can sometimes be found!
| | |
| --- | --- |
| PAPA ROACH CROSSBONES DRIPS Short Sleeve T-Shirt - £15.00 | PAPA ROACH LOVE Skinny Fit T-Shirt - £15.00 |
Some albums mark a transition, a new chapter for a band. Papa Roach have always been honest with their lyrics, and open with their musical style - and there is no finer example of this than their new record 'The Connection'. Ending their year with a European run with Stone Sour, we chatted to Tobin prior to their first show in London.

Annually, we music fans are spoiled by bands worldwide. As it draws to a close, we look back on the year as a whole and attempt to pick out our favourite offerings the last twelve months have given us. More often than not there comes an addition feeling - "Next year's got a lot to beat. " And, as each that came before it has done, 2012 has given us countless alternative albums to revel in and, accordingly, here are ten alternative records that come highly recommended.

Papa Roach are a band who wear their hearts on their sleeves. Aside from the addictive side of their music, the sheer honesty they've maintained throughout their career makes them relatable and 'The Connection', their new record, proves no different.

Papa Roach are one of those bands who have consciously developed their sound throughout their career while maintaining a cores essence of self in its midst. As their latest offering 'The Connection' sees them dabbling in a more electronic field, one thing is still clear: This is Papa Roach, and they won't compromise.

Papa Roach have unleashed the music video for their new single 'Still Swingin''. Set for release on 24th September, 'Still Swingin'' is the lead single from the band's new album 'The Connection', released 1st October.





SITE LINKS




SITE INFO

TOP SELLING TICKETS




LATEST ANNOUNCEMENTS

FOLLOW US FOR LIVE UPDATES


© 2002 - 2013
Stereoboard.com
. All rights reserved. All images, audio, and video clips are the sole property and copyright of their respective owners. No unauthorised use of any original content on this site without permission.
Stereoboard.com is developed & maintained by Eyedigit Limited, 42a Station Road, Llanishen, Cardiff CF14 5LT. Registered in England & Wales - Company #: 06931695.
Terms of Use, Privacy & Cookie Policy
|
Contact Information