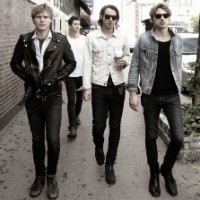 Looking for tickets for upcoming The Chevin tour dates or events? We compare prices of The Chevin tickets from official primary & trusted secondary sources, providing a legitimate & safe comparison for finding cheap tickets for The Chevin and ensuring you avoid bogus ticketing websites.

Compare & track The Chevin tour dates and ticket prices at Stereoboard! Finding the cheapest The Chevin tickets is quick and easy - we search some of the major UK agencies and ticket exchanges, including Gigantic, Eventim, Stargreen, Ticketline, Seatwave & Viagogo - to bring you the cheapest prices for all The Chevin tickets, even if the The Chevin event is sold out!
Sorry, we don't have any The Chevin tour dates, events or tickets listed presently.

If you'd like to be kept informed on any future events, please register for our The Chevin Tour and Ticket Updates. Simply leave your email details to receive our FREE weekly tour updates. You'll never miss any The Chevin tour dates or events again!

Alternatively you can subscribe to our The Chevin tour dates RSS feed in your news reader for daily The Chevin tour updates.

Also please don't forget to check out the award winning Stereoboard.com while you're here!
Recent Chevin News Articles
I'm not sure whether I'm being prematurely Christmassy, but this album has real wintery notes, with falsetto vocals mixed with the big-band style percussion making for a fitting yet emotive soundtrack to the cold months. It's an album that you can build memories to, nurse a hangover to, cry to, and laugh to.

Electro wunderkind AbDeCaf has been developing a strong reputation as one of the most exciting up and coming producers around. Having recently wowed with his 'Rebuild' EP, the Miami native has continued his impressive streak by remixing 'Champion' by The Chevin.

Taking their name from a ridge of Moorland in their home town of Otley, The Chevin have enjoyed a marvellous first half of 2012. The Yorkshire quartet are gearing up for the release of their debut album 'Borderland' by releasing 'Champion' on October 15th.

Maybe you haven't heard of the band The Chevin, well up until yesterday neither had I. But now I can tell you that they are a rock four piece from North Yorkshire; between the inspiringly beautifully bare rolling moors which feature in the video for their new single 'Blue Eyes' and no less romantically, Leeds (well maybe it's little less romantic).

The Chevin are offering new release 'Blue Eyes,' taken from forthcoming debut album 'Borderline,' as a free download.



© 2002 - 2013
Stereoboard.com
. All rights reserved. All images, audio, and video clips are the sole property and copyright of their respective owners. No unauthorised use of any original content on this site without permission.
Stereoboard.com is developed & maintained by Eyedigit Limited, 42a Station Road, Llanishen, Cardiff CF14 5LT. Registered in England & Wales - Company #: 06931695.
Terms of Use, Privacy & Cookie Policy
|
Contact Information