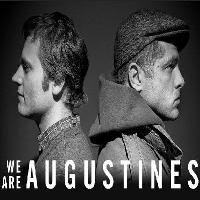 American indie-rockers We Are Augustines are arguably one of the quickest-rising bands to come out of the states in modern times. Formed from the ashes of Pela, the group got together in 2010, and managed to release their debut album 'Rise Ye Sunken Ships' a year later.

The album received brilliant reviews across the board - Liquid Hip rated it 9.9/10, whilst iTunes named it the 'Best Alternative Album' of 2011 - and catapulted the band to international stardom. But, whilst their studio work has won them fans, their live shows are incredible - they have a reputation of a band that tears the roof off of every venue they play. They tour the UK late in 2012 - do NOT miss out if you like indie-rock.

Compare & track We Are Augustines tour dates and ticket prices at Stereoboard! Finding the cheapest tickets for We Are Augustines events is quick and easy - we search the major UK ticket agencies and resale exchanges, including Gigantic, Eventim, Stargreen, Ticketline, GetMeIn, Seatwave & Viagogo - to bring you the cheapest prices for We Are Augustines tickets, even if the We Are Augustines event is sold out!
Sorry, we don't have any We Are Augustines tour dates, events or tickets listed presently.

If you'd like to be kept informed on any future events, please register for our We Are Augustines Tour and Ticket Updates. Simply leave your email details to receive our FREE weekly tour updates. You'll never miss any We Are Augustines tour dates or events again!

Alternatively you can subscribe to our We Are Augustines tour dates RSS feed in your news reader for daily We Are Augustines tour updates.

Also please don't forget to check out the award winning Stereoboard.com while you're here!
Recent We Are Augustines News Articles
We Are Augustines have a few discernible qualities that are immediately going to attract the casual listener – they're undeniably earnest at a time when authenticity is becoming an increasingly valued trait in music again, even if that authenticity is the marketable trait (See Mumford & Sons); and they have obviously listened to a bit of U2 and Springsteen in their time, and they know that any band that aspires to stadium level needs that anthemic reverb-soaked sound to get noticed. Oh, and lead vocalist Billy McCarthy has a gruff voice and a hat.

Following the success of the band's sold out UK tour in May and the critically acclaimed album 'Rise Ye Sunken Ships', Brooklyn's We Are Augustines will return for a full UK tour in October. You could win tickets to see the guys perform live in either Manchester (Wednesday 3rd October) or Birmingham (Tuesday 9th October), as well as a copy of 'Rise Ye Sunken Ships', in our brand new competition below.

Brooklyn's We Are Augustines have released a live video of 'Philadelphia (The City of Brotherly Love)' this week following successful appearances at both Reading and Leeds Festivals playing in front of packed audiences. The video was recorded at The Neptune in Seattle this year, one of their favourite venues on the gig circuit since they started touring.

Brooklyn's We Are Augustines are set to release a double A-Side single featuring 'Book of James' and 'Philadelphia (The City of Brotherly Love)' on September 3rd ahead of their Autumn UK tour following performances at Reading and Leeds Festivals.

Brooklyn, New York is an area more or less synonymous with big, uncompromising, American hip hop, yet out of the city haze have come We Are Augustines, one of the most promising of 2012's indie rock crop.



© 2002 - 2013
Stereoboard.com
. All rights reserved. All images, audio, and video clips are the sole property and copyright of their respective owners. No unauthorised use of any original content on this site without permission.
Stereoboard.com is developed & maintained by Eyedigit Limited, 42a Station Road, Llanishen, Cardiff CF14 5LT. Registered in England & Wales - Company #: 06931695.
Terms of Use, Privacy & Cookie Policy
|
Contact Information