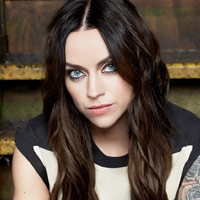 Scottish star Amy MacDonald is a soft rock solo star who kicked off her career in 2007, signing a deal with Vertigo after responding to an ad in NME. Releasing her debut album 'This is the Life' the same year, MacDonald was an instant hit, with the album peaking at #1 - selling over 3 million copies worldwide.

Fast forward to 2012, and MacDonald has maintained her incredible record with the release of two more albums; 'A Curious Thing', and then 'Life in a Beautiful Light - both of which charted highly, hitting #4 and #2 in the UK Albums charts respectively. After a critically acclaimed tour of the UK during the autumn months, she's lined-up a brand new tour for spring 2013 - check below to find tickets.

Compare & track Amy Macdonald tour dates and ticket prices at Stereoboard! Finding the cheapest tickets for Amy Macdonald events is quick and easy - we search the major UK ticket agencies and resale exchanges, including Gigantic, Eventim, Stargreen, Ticketline, GetMeIn, Seatwave & Viagogo - to bring you the cheapest prices for Amy Macdonald tickets, even if the Amy Macdonald event is sold out!
UK & IRELAND EVENTS

Friday 26th July 2013

Scarborough, United Kingdom



Official

Amy MacDonald


Scarborough, The Spa

from


£

25

.00

INTERNATIONAL EVENTS

Wednesday 3rd July 2013

Klam, Austria



Premium

Amy MacDonald


Klam, Burg Clam

from


£

45

.15

Thursday 4th July 2013

Kufstein, Austria



Premium

Amy MacDonald


Kufstein, Kufstein Festung

from


£

50

.54

Friday 5th July 2013

Locarno, Switzerland



Premium

Amy Macdonald Moon and Stars 2013


Locarno, Piazza Grande

from


£

73

.58

Sunday 18th August 2013

Singen, Germany



Premium

Amy MacDonald


Singen, Rathausplatz Singen

from


£

56

.29

Tuesday 20th August 2013

Koln, Germany



Premium

Amy MacDonald


Koln, Open Air am Tanzbrunnen

from


£

44

.04



Premium

Amy Macdonald


Cologne, Tanzbrunnen

from


£

48

.79

Wednesday 21st August 2013

Hamburg, Germany



Premium

Amy MacDonald


Hamburg, Stadtpark Freilichtbuhne

from


£

42

.75



Premium

Amy Macdonald


Hamburg, Stadtpark Freilichtbuhne

from


£

46

.22
Stereoboard partners with trusted primary and secondary ticket sellers to compare Amy Macdonald tickets. The companies we work with have a registered office, provide contact details and offer prompt Money Back Guarantees. Purchasing Amy Macdonald tickets through Stereoboard.com is always safe, secure and risk-free!
We cannot vouch for the authenticity or reliability of any eBay sellers, we'd strongly advise you to thoroughly check the feedback and selling history before making a purchase. A bargain can sometimes be found!
Amy Macdonald, one of Europe's biggest selling singer-songwriters, has announced a new UK tour for March 2013.

Indie-folk star Amy Macdonald has unveiled her latest single and video 'Pride', out August 13th.

Today Amy MacDonald has confirmed a string of dates for her 'Life In A Beautiful Light Live' UK tour set for this autumn and winter. She will be playing five dates around the UK and the best tickets have been kept for her fans. Amy plays the dates below and a fan presale begins tomorrow, Wednesday 25th July, from 9am. Check out www.amymacdonald.co.uk for further details. Click Here to Compare & Buy Amy MacDonald Tickets.

Amy Macdonald's third album 'Life In A Beautiful Light', released this week, is already in the Top Ten of the iTunes chart in a staggering 13 countries, continuing Amy's success as an international artist. To date Amy has sold over 4 million albums worldwide and has received Platinum or Gold successes in a phenomenal 17 countries.



© 2002 - 2013
Stereoboard.com
. All rights reserved. All images, audio, and video clips are the sole property and copyright of their respective owners. No unauthorised use of any original content on this site without permission.
Stereoboard.com is developed & maintained by Eyedigit Limited, 42a Station Road, Llanishen, Cardiff CF14 5LT. Registered in England & Wales - Company #: 06931695.
Terms of Use, Privacy & Cookie Policy
|
Contact Information