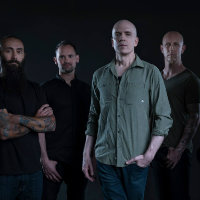 Devin Townsend Project will be performing in Vancouver, check the dates below! Check below to find Devin Townsend Project tickets in Vancouver. If you'd like to see a list of all Devin Townsend Project tour dates, please
CLICK HERE
.
Sorry, we don't have any Devin Townsend Project tour dates, events or tickets listed presently.

If you'd like to be kept informed on any future events, please register for our Devin Townsend Project Tour and Ticket Updates. Simply leave your email details to receive our FREE weekly tour updates. You'll never miss any Devin Townsend Project tour dates or events again!

Alternatively you can subscribe to our Devin Townsend Project tour dates RSS feed in your news reader for daily Devin Townsend Project tour updates.

Also please don't forget to check out the award winning Stereoboard.com while you're here!
Recent Devin Townsend Project News Articles
Following the critical success of Devin Townsend Projectís latest album 'Epicloud', as well as their sold-out Retinal Circus performance at Londonís legendary Roundhouse venue and current US tour with Gojira, they show no signs of slowing down. On the 3rd May 2013, the band will join forces with tech-metal behemoths Meshuggah for a huge co-headline show at Brixton Academy where Devin Townsend Project will close the nights proceedings.

ďNo, I wonít put The Darkness in it. Ē This is an excerpt from the internal struggle I experienced as I was putting this list together. It was ridiculously hard to narrow it down to just 5 albums, and whilst I really loved The Darknessís new album, I refused to include it here. Because this is for metal albums. Monstrous, raucous, wonderfully nasty albums. 2012 has been a superb year for metal music, so before I delve into my top 5; Iíd like to shower honourable mentions upon artists who just missed out: Ihsahn, Soulfly, Converge, Deftones, Cancer Bats, Deadly Circus Fire and God Seed. You really should listen to these too, but I canít really explain why, as that would defeat the purpose of creating a top 5. So, as I sit here roasting chestnuts on an open fire and scaring off carol singers with the latest Cannibal Corpse CD, here you go. Drum roll, please?

Devin Townsend seemingly canít stop touring. Every time another mammoth trek around the world is done, the man just heads straight back out on the road again but maybe thatís just the price he has to pay for the newfound success of the Devin Townsend Project. As someone who keenly remembers the release of 'Ki' and 'Addicted. ' back in 2009, to a polite ripple of applause and interest, the launching of 'Epicloud' this year as one of the biggest metal albums of 2012 felt a bit strange to say the least. The fact that Townsend is now on tour heading a bill that includes industrial death metal legends Fear Factory as a support act speaks volumes of this increased presence in the metal world. Whether the Strapping Young Lad fans at the back of the room like it or not, Devin Townsend is a bona fide metal superstar now.

Youíve spoken in other interviews about how 'Epicloud' surprised you in a way. At what point during the recording did you realise that the record was going to turn out how it did, stylistically?

Perhaps appropriately, considering the often baffling twists and turns that have dominated his career, I have a somewhat confused relationship with Devin Townsend and his music. On one level I subscribe to the popular view of the times, that the man is a metal genius, on another I find him too prone to silliness for the cynic inside me. With regard to 'Epicloud', the fifth release under the prolific Devin Townsend Project name, I genuinely find it harder than ever to know where I stand.





SITE LINKS




SITE INFO

TOP SELLING TICKETS




LATEST ANNOUNCEMENTS

FOLLOW US FOR LIVE UPDATES


© 2002 - 2013
Stereoboard.com
. All rights reserved. All images, audio, and video clips are the sole property and copyright of their respective owners. No unauthorised use of any original content on this site without permission.
Stereoboard.com is developed & maintained by Eyedigit Limited, 42a Station Road, Llanishen, Cardiff CF14 5LT. Registered in England & Wales - Company #: 06931695.
Terms of Use, Privacy & Cookie Policy
|
Contact Information