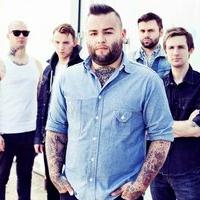 Gallows will be performing in Leeds, check the dates below! Check below to find Gallows tickets in Leeds. If you'd like to see a list of all Gallows tour dates, please
CLICK HERE
.
Sorry, we don't have any Gallows tour dates, events or tickets listed presently.

If you'd like to be kept informed on any future events, please register for our Gallows Tour and Ticket Updates. Simply leave your email details to receive our FREE weekly tour updates. You'll never miss any Gallows tour dates or events again!

Alternatively you can subscribe to our Gallows tour dates RSS feed in your news reader for daily Gallows tour updates.

Also please don't forget to check out the award winning Stereoboard.com while you're here!



Gallows Pig USA Import T Shirt

-

£16.49




Gallows Britain T-Shirt

-

£16.49




GALLOWS JUMBO SKULL Short Sleeve T-Shirt

-

£15.00




GALLOWS GREY BRITAIN Short Sleeve T-Shirt

-

£15.00
Hardcore punk outfit Gallows have announced a third date at London's Camden Underworld this October, as demand to catch the newly rejuvenated band on their October UK tour hits overload.

It may be a statement repeated by music elitists and fans across the world alike, but Gallows think that '90%' of today's music is pretty crap, however, we're apparently now in luck - because they believe their new album is the 'flush' that'll suck away the 'shit' which has surfaced in their absence.

Gallows have confirmed that their new self-titled album will be released on 10th September, just prior to a brand new UK tour confirmed for October. Gallows Tickets are on sale from 9am tomorrow, Friday 29th June.



© 2002 - 2013
Stereoboard.com
. All rights reserved. All images, audio, and video clips are the sole property and copyright of their respective owners. No unauthorised use of any original content on this site without permission.
Stereoboard.com is developed & maintained by Eyedigit Limited, 42a Station Road, Llanishen, Cardiff CF14 5LT. Registered in England & Wales - Company #: 06931695.
Terms of Use, Privacy & Cookie Policy
|
Contact Information