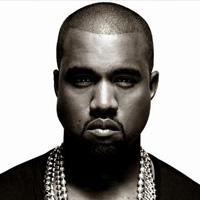 Kanye West is one of the biggest names in today's hip-hop scene. A highly-respected producer and rapper, Kanye West's witty lyrics and superb quality music have propelled him to achieving a plethora of hit songs as well as a MOBO award.

The success of both Kanye West's debut album 'The College Dropout' and his follow-up 'Late Registration' established him as an impressive artist and no flash-in-the-pan. He has since gone on to release a string of quality albums and perform at a variety of award shows and festivals. Kanye West will be performing live in London this February, you can get your Kanye West tickets at Stereoboard.

Compare & track Kanye West tour dates and ticket prices at Stereoboard! Finding the cheapest tickets for Kanye West events is quick and easy - we search the major UK ticket agencies and resale exchanges, including Gigantic, Eventim, Stargreen, Ticketline, GetMeIn, Seatwave & Viagogo - to bring you the cheapest prices for Kanye West tickets, even if the Kanye West event is sold out!
Sorry, we don't have any Kanye West tour dates, events or tickets listed presently.

If you'd like to be kept informed on any future events, please register for our Kanye West Tour and Ticket Updates. Simply leave your email details to receive our FREE weekly tour updates. You'll never miss any Kanye West tour dates or events again!

Alternatively you can subscribe to our Kanye West tour dates RSS feed in your news reader for daily Kanye West tour updates.

Also please don't forget to check out the award winning Stereoboard.com while you're here!
Recent Kanye West News Articles



Kanye West Robot Wars USA Import T Shirt

-

£16.99




Kanye West Power Triangle USA Import T Shirt

-

£16.50




Kanye West Power Drip USA Import T Shirt

-

£16.50




Kanye West Ballerina USA Import T Shirt

-

£16.50




Kanye West Sketch USA Import T Shirt

-

£16.50




Kanye West Gold Digger T-Shirt

-

£16.49




Kanye West Flying Bear USA Import T Shirt

-

£16.49




Kanye West Face USA Import T Shirt

-

£16.49
American hip-hop star Kanye West has revealed that his forthcoming studio album will be called 'Yeezus'.

American hip-hop star Kanye West gave a brand new track it's premiere performance whilst performing at a party in New York last night - you can check out a video below.

Hip-hop superstar Kanye West has finished recording his brand new album, according to Hot 97 DJ Paul Rosenberg.

American superstar Kanye West worked with French house duo Daft Punk on music for his new album, it has been revealed.

Not one to harbour an ego, Kanye West is always magnanimous in defeat, is never sore loser, and is grateful when he does win. And after ranking #7 in the prestigious MTV Hottest MC List, he was more than happy to be featured on the list.



© 2002 - 2013
Stereoboard.com
. All rights reserved. All images, audio, and video clips are the sole property and copyright of their respective owners. No unauthorised use of any original content on this site without permission.
Stereoboard.com is developed & maintained by Eyedigit Limited, 42a Station Road, Llanishen, Cardiff CF14 5LT. Registered in England & Wales - Company #: 06931695.
Terms of Use, Privacy & Cookie Policy
|
Contact Information