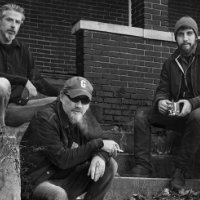 West Virginia's Karma to Burn are a stoner metal/desert rockl outfit who formed in 1997, releasing their eponymous debut album the same year. Consisting of William Mecum, Rich Mullins, and Rob Oswald, the band went on to release two more albums, before splitting in 2002.

Fending off the urge to get back together for seven years, the trio could no longer resist and got back together in 2009, putting out their first album for nine years in 2010. Their latest record, 'V', came out last year, taking their album total to 5. This band isn't one to shy away from the touring side of the music game, and perform across the world regularly - you can catch them in August and September 2012.

Compare & track Karma To Burn tour dates and ticket prices at Stereoboard! Finding the cheapest tickets for Karma To Burn events is quick and easy - we search the major UK ticket agencies and resale exchanges, including Gigantic, Eventim, Stargreen, Ticketline, GetMeIn, Seatwave & Viagogo - to bring you the cheapest prices for Karma To Burn tickets, even if the Karma To Burn event is sold out!
Sorry, we don't have any Karma To Burn tour dates, events or tickets listed presently.

If you'd like to be kept informed on any future events, please register for our Karma To Burn Tour and Ticket Updates. Simply leave your email details to receive our FREE weekly tour updates. You'll never miss any Karma To Burn tour dates or events again!

Alternatively you can subscribe to our Karma To Burn tour dates RSS feed in your news reader for daily Karma To Burn tour updates.

Also please don't forget to check out the award winning Stereoboard.com while you're here!
Recent Karma To Burn News Articles
It seems unfair to chastise Karma to Burn for something that was never their fault in the first place, but one cannot help but lament the turn their career took back when it first started, fifteen years ago. Their debut, self-titled, record is fondly remembered by some as one of the definitive stoner rock records. In reality however it was just a hint at what could have been. Having signed a big fat record contract, on the proviso of getting a vocalist, in order to release said debut record, the band recorded something that, whilst great, lacked the distinctive thunder of their instrumental releases since.

Karma to Burn are set to release 'Karma to Burn – Slight Reprise' through Maybe Records on 17th September 2012. The band land on UK shores the same month for a full tour in support of the release.



© 2002 - 2013
Stereoboard.com
. All rights reserved. All images, audio, and video clips are the sole property and copyright of their respective owners. No unauthorised use of any original content on this site without permission.
Stereoboard.com is developed & maintained by Eyedigit Limited, 42a Station Road, Llanishen, Cardiff CF14 5LT. Registered in England & Wales - Company #: 06931695.
Terms of Use, Privacy & Cookie Policy
|
Contact Information