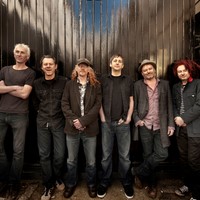 Levellers will be performing in Birmingham, check the dates below! Check below to find Levellers tickets in Birmingham. If you'd like to see a list of all Levellers tour dates, please
CLICK HERE
.
Sorry, we don't have any Levellers tour dates, events or tickets listed presently.

If you'd like to be kept informed on any future events, please register for our Levellers Tour and Ticket Updates. Simply leave your email details to receive our FREE weekly tour updates. You'll never miss any Levellers tour dates or events again!

Alternatively you can subscribe to our Levellers tour dates RSS feed in your news reader for daily Levellers tour updates.

Also please don't forget to check out the award winning Stereoboard.com while you're here!
Brighton folk-rockers Levellers are celebrating their recent 25th Anniversary, have announceed a raft of UK summer gigs and festivals, and unveiled details of a new 5 Track EP supporting the War Child charity.

Levellers have released the next instalment of their project to record a video for every track from their recently released album, 'Static On The Airwaves'.

Levellers have are to release the third single, 'We Are All Gunmen', from their critically acclaimed album 'Static On The Airwaves'. 'We Are All Gunmen' is set for release on 25th August.



© 2002 - 2013
Stereoboard.com
. All rights reserved. All images, audio, and video clips are the sole property and copyright of their respective owners. No unauthorised use of any original content on this site without permission.
Stereoboard.com is developed & maintained by Eyedigit Limited, 42a Station Road, Llanishen, Cardiff CF14 5LT. Registered in England & Wales - Company #: 06931695.
Terms of Use, Privacy & Cookie Policy
|
Contact Information