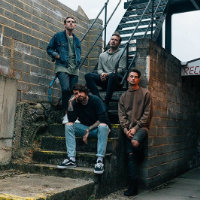 Lower Than Atlantis are an English post-hardcore and punk-rock outfit hailing from Hertfordshire. Forming in 2007 - and consisting of Mike Duce Ben Sansom Eddy Thrower and Dec Hart - the band released their debut EP 'Bretton' in 2008 the band have gone on to become one of Britain's most-popular modern hardcore outfits and can often be seen touring the UK alongside some of the biggest names in the country.

They released their debut album 'Far-Q' in 2010 introducing themselves to a wider audience. Then the following year they made massive waves with their sophomore effort 'World Record' which went on to earn much critical acclaim finishing the year as Metal Hammer's #1 Staff Favourite Record. 2012 saw them put out their third record 'Changing Tune' - and some brand new UK tour dates. Check below to see where Lower Than Atlantis performing in the coming months.

Compare & track Lower Than Atlantis tour dates and ticket prices at Stereoboard! Finding the cheapest tickets for Lower Than Atlantis events is quick and easy - we search the major UK ticket agencies and resale exchanges, including Gigantic, Eventim, Stargreen, Ticketline, GetMeIn, Seatwave & Viagogo - to bring you the cheapest prices for Lower Than Atlantis tickets, even if the Lower Than Atlantis event is sold out!
Sorry, we don't have any Lower Than Atlantis tour dates, events or tickets listed presently.

If you'd like to be kept informed on any future events, please register for our Lower Than Atlantis Tour and Ticket Updates. Simply leave your email details to receive our FREE weekly tour updates. You'll never miss any Lower Than Atlantis tour dates or events again!

Alternatively you can subscribe to our Lower Than Atlantis tour dates RSS feed in your news reader for daily Lower Than Atlantis tour updates.

Also please don't forget to check out the award winning Stereoboard.com while you're here!
Recent Lower Than Atlantis News Articles



LOWER THAN ATLANTIS ANCHOR Short Sleeve T-Shirt

-

£15.00




LOWER THAN ATLANTIS ANCHOR Short Sleeve T-Shirt

-

£15.00




LOWER THAN ATLANTIS LOGO Short Sleeve T-Shirt

-

£15.00
Lower Than Atlantis have announced a brand new UK and Ireland tour this morning, following their recent tour which took place throughout October.

Opening times for tonight's show were barely an hour ago and already the 1000 capacity Bristol Trinity is buzzing with teenage adrenaline and blanketed in empty beer cups. Coinciding with the release of their major label debuting third studio album 'Changing Tune', Lower Than Atlantis have just embarked on the umpteenth tour of their prospering careers in beer guzzling provocative pop punk. Bands who tour as frequently and far and wide as these Watfordians tend to make a few friends on their travels and this time they've nailed the support slots and brought the likes of Gnarwolves, Don Broco and The Dangerous Summer along with them.

On the eve of the release of their third full length studio album: 'Changing Tune', Ben Sansom, lead guitarist of aspiring Watford rockers, Lower Than Atlantis, spared us some time to answer questions about their forthcoming UK tour, life in the band and the incredible fortune they have enjoyed so far this year.

Lower Than Atlantis have announced that due to manufacturing issues, their major label debut album 'Changing Tune' will now be released on 1st October 2012 via Island Records. The first single from the album, 'Love Someone Else' is currently available via iTunes and has a radio impact date of 1st October.

Lower Than Atlantis have premièred another track from their eagerly awaited major label debut 'Changing Tune'.



© 2002 - 2013
Stereoboard.com
. All rights reserved. All images, audio, and video clips are the sole property and copyright of their respective owners. No unauthorised use of any original content on this site without permission.
Stereoboard.com is developed & maintained by Eyedigit Limited, 42a Station Road, Llanishen, Cardiff CF14 5LT. Registered in England & Wales - Company #: 06931695.
Terms of Use, Privacy & Cookie Policy
|
Contact Information