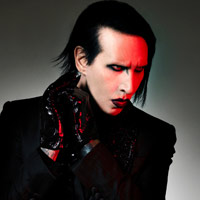 Marilyn Manson will be performing in Basel, check the dates below! Check below to find Marilyn Manson tickets in Basel. If you'd like to see a list of all Marilyn Manson tour dates, please
CLICK HERE
.
Sorry, we don't have any Marilyn Manson tour dates, events or tickets listed presently.

If you'd like to be kept informed on any future events, please register for our Marilyn Manson Tour and Ticket Updates. Simply leave your email details to receive our FREE weekly tour updates. You'll never miss any Marilyn Manson tour dates or events again!

Alternatively you can subscribe to our Marilyn Manson tour dates RSS feed in your news reader for daily Marilyn Manson tour updates.

Also please don't forget to check out the award winning Stereoboard.com while you're here!
Recent Marilyn Manson News Articles



Marilyn Manson Crown USA Import T Shirt

-

£16.49




Marilyn Manson Skull Cross USA Import T Shirt

-

£16.49




MARILYN MANSON BORN VILLAIN Short Sleeve T-Shirt

-

£15.00




MARILYN MANSON SUFFER Short Sleeve T-Shirt

-

£15.00




MARILYN MANSON PERSONAL JESUS Short Sleeve T-Shirt

-

£15.00
Marilyn Manson shocked fans in a rather different way at a gig in Saskatoon, Canada last night - after vomiting and then passing out on stage during a rendition of 'Beautiful People'.

Goth rock star Marilyn Manson had to have 24 stitches to reattach part of his ear, after being hit in the head with a glass table.

Marilyn Manson, who released the album 'Born Villain' earlier this year and most recently unleashed the second single to come from it 'Slo Mo Tion', has today revealed two official remixes by Russian electronic and techno DJ/Producer Proxy.

American glam-rock superstar Marilyn Manson has unveiled the brand new music video for the track 'Hey Cruel World...', the opening track of his latest album 'Born Villain'.

It's not uncommon to flick on the news nowadays and find some form of violence being reported on. That in itself is a shame, and it's a scary fact, but what is often being brought into the equation is music, and more often than not (that's being generous), it's being portrayed negatively. But why is this still happening?



© 2002 - 2013
Stereoboard.com
. All rights reserved. All images, audio, and video clips are the sole property and copyright of their respective owners. No unauthorised use of any original content on this site without permission.
Stereoboard.com is developed & maintained by Eyedigit Limited, 42a Station Road, Llanishen, Cardiff CF14 5LT. Registered in England & Wales - Company #: 06931695.
Terms of Use, Privacy & Cookie Policy
|
Contact Information