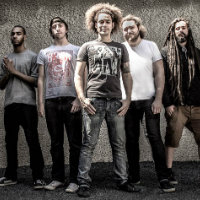 Looking for tickets for upcoming Monuments tour dates or events? We compare prices of Monuments tickets from official primary & trusted secondary sources, providing a legitimate & safe comparison for finding cheap tickets for Monuments and ensuring you avoid bogus ticketing websites.

Compare & track Monuments tour dates and ticket prices at Stereoboard! Finding the cheapest Monuments tickets is quick and easy - we search some of the major UK agencies and ticket exchanges, including Gigantic, Eventim, Stargreen, Ticketline, Seatwave & Viagogo - to bring you the cheapest prices for all Monuments tickets, even if the Monuments event is sold out!
Sorry, we don't have any Monuments tour dates, events or tickets listed presently.

If you'd like to be kept informed on any future events, please register for our Monuments Tour and Ticket Updates. Simply leave your email details to receive our FREE weekly tour updates. You'll never miss any Monuments tour dates or events again!

Alternatively you can subscribe to our Monuments tour dates RSS feed in your news reader for daily Monuments tour updates.

Also please don't forget to check out the award winning Stereoboard.com while you're here!
Recent Monuments News Articles
Heavy metal audiences have become so fragmented over the past decade or so, it is difficult to discern where to draw the line on what counts as "real metal". At least this is the case in the eyes of the purists, who we tend to generalise as those pesky misanthropic internet nerds who yearn for the good old days when nobody was a poser.

'Djent'... that most troublesome of metal genre beasts. Easy to deride and hard to love it may often be but the technical skill involved makes up for that right? Wrong. There is nothing worse than a sea of bands essentially ripping off the style of a few innovators (Meshuggah, Textures, etc) with about as much desire to add new aspects as Oasis had to make a full-on avant-garde jazz record. Is such an opinion lazy? Undoubtedly, but that does not make it incorrect.



© 2002 - 2013
Stereoboard.com
. All rights reserved. All images, audio, and video clips are the sole property and copyright of their respective owners. No unauthorised use of any original content on this site without permission.
Stereoboard.com is developed & maintained by Eyedigit Limited, 42a Station Road, Llanishen, Cardiff CF14 5LT. Registered in England & Wales - Company #: 06931695.
Terms of Use, Privacy & Cookie Policy
|
Contact Information