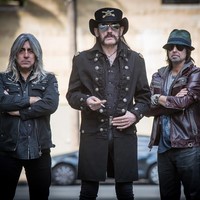 Motorhead will be performing in Eindhoven, check the dates below! Check below to find Motorhead tickets in Eindhoven. If you'd like to see a list of all Motorhead tour dates, please
CLICK HERE
.
Sorry, we don't have any Motorhead tour dates, events or tickets listed presently.

If you'd like to be kept informed on any future events, please register for our Motorhead Tour and Ticket Updates. Simply leave your email details to receive our FREE weekly tour updates. You'll never miss any Motorhead tour dates or events again!

Alternatively you can subscribe to our Motorhead tour dates RSS feed in your news reader for daily Motorhead tour updates.

Also please don't forget to check out the award winning Stereoboard.com while you're here!
Recent Motorhead News Articles



Motorhead Ace Of Spades (Workshirt) Short Sleeve Shirt

-

£39.99




MOTORHEAD ACE OF SPADES SLEEVELESS WORK SHIRT

-

£30.00




MOTORHEAD ENGLAND SLEEVELESS WORK SHIRT

-

£30.00




Motorhead Black Aces - Workshirt Work Jacket

-

£24.99




Motorhead Warpig - Baseball T-shirt T-Shirt

-

£24.99




Motorhead Lemmy Iron Cross T-Shirt

-

£19.99




Motorhead Born To Lose T-Shirt

-

£19.99




Motorhead Dickies Shirt Shirt

-

£19.99




Motorhead Aces Up My Sleeve T-Shirt

-

£19.99




Motorhead England - Skinny (White) T-Shirt

-

£19.99
You can bet your life, Motorhead are not a band that will rest on their laurels. Ever. Another year and another nod of Lemmy's cowboy hat indicates that another new album is on the way.

In keeping with what has now become tradition for any self respecting rock fan, Motorhead have been out on the road for their annual autumn tour. Last night, the iconic Lemmy Kilmister and co wrapped up 2012's tour with a thundering performance at Bristol's Colston Hall. Stereoboard were on hand to capture all the action on stage.

The legendary Motorhead have partnered with an Australian winery in order to launch a branded red wine for their fans.

On September 21st, 2012 the loudest, most real and raucous rock'n'roll Grammy-winning band in the world, Motörhead, will release 'The Wörld Is Ours - Vol 2 - Anyplace Crazy As Anywhere Else', the follow-up to 2011's 'The Wörld Is Ours - Vol 1 - Everywhere Further Than Everyplace Else'.





SITE LINKS




SITE INFO

TOP SELLING TICKETS




LATEST ANNOUNCEMENTS

FOLLOW US FOR LIVE UPDATES


© 2002 - 2013
Stereoboard.com
. All rights reserved. All images, audio, and video clips are the sole property and copyright of their respective owners. No unauthorised use of any original content on this site without permission.
Stereoboard.com is developed & maintained by Eyedigit Limited, 42a Station Road, Llanishen, Cardiff CF14 5LT. Registered in England & Wales - Company #: 06931695.
Terms of Use, Privacy & Cookie Policy
|
Contact Information