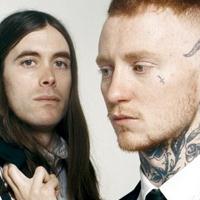 Pure Love are a brand new band consisting of former Gallows frontman Frank Carter and ex-Hope Conspiracy and Suicide File guitarist Jim Carroll. Despite both members coming fresh from two metal/hardcore outfits, their new project - which formed in 2011 - sees them now writing alternative rock.

After spending some months in the studio, the band put on their first performance at the NME Awards in February 2012, while their debut single 'Anthems' out in May. Their debut album 'Anthems' hits shelves in October 2012 - you can catch the pair touring it the same month.

Compare & track Pure Love tour dates and ticket prices at Stereoboard! Finding the cheapest tickets for Pure Love events is quick and easy - we search the major UK ticket agencies and resale exchanges, including Gigantic, Eventim, Stargreen, Ticketline, GetMeIn, Seatwave & Viagogo - to bring you the cheapest prices for Pure Love tickets, even if the Pure Love event is sold out!
Sorry, we don't have any Pure Love tour dates, events or tickets listed presently.

If you'd like to be kept informed on any future events, please register for our Pure Love Tour and Ticket Updates. Simply leave your email details to receive our FREE weekly tour updates. You'll never miss any Pure Love tour dates or events again!

Alternatively you can subscribe to our Pure Love tour dates RSS feed in your news reader for daily Pure Love tour updates.

Also please don't forget to check out the award winning Stereoboard.com while you're here!
Recent Pure Love News Articles
So there I was, sat on the sofa at the Bodega Social Club in Nottingham. I felt somewhat out of place. Then again, I was the only person in the room wearing a Pikachu onesie. Next to me was my mate, suited and booted in a Stitch onesie. After telling us that we looked like Teletubbies, Frank Carter and Jim Carroll of Pure Love lead us downstairs to pick their brains. Obviously, things had to go awry at some point, and they did; there was a titanic technology failure that we only noticed after the interview. This resulted in us spending an hour and a half sat on the cold streets of Nottingham, frantically trying to transcribe this interview. Try to enjoy it.

Today's turning out to be something of an odd one. After commuting from my day-job as a Dinner Lady (or Dinner Man) down to Nottingham, I interviewed Pure Love. There was chitchat about Honey Badgers and music, and then we shook hands and parted ways. Then I realised that the footage we shot had been corrupted, which, in turn, led to me and my mate trying to retrieve any decipherable audio from my prehistoric voice recorder. It took an hour and a half. So, to put it lightly, we're a bit grumpy.

It was quite a shock back in 2011 when Frank Carter announced his departure from Gallows, citing that he and the band were looking to go in different directions musically. "I'm so sick of singing about hate," he claims on single 'Bury My Bones', a personal favourite offering from Frank and ex-Hope Conspiracy's own Jim Carroll. Pure Love sees the pair mesh their styles into brilliant new album, and February sees that album - 'Anthems' - finally being released.

"I'm so sick of singing about hate, it's never gonna make a change. " These lyrics make me chuckle. Not because they're funny. No. They make me chuckle because they're sung by Frank Carter. And the last time I saw Frank Carter, he was at risk of shredding his vocal chords whilst screaming "Misery fucking loves me. And I love her so. " in front of an incessantly violent crowd. At 11 O'clock in the morning. He also got a circle pit going. At 11 O'clock in the morning, ladies and gentlemen. Surely you can all understand how taken aback I was when I heard him sounding, well... happy.

Pure Love today announce their first headline run of 2013, coinciding with the release of their debut album 'Anthems' and next single 'Beach Of Diamonds'. The tour includes a headline show at XOYO on Valentine's Day – the same day as the 1 year anniversary of their first ever show that took place at Bush Hall on February 14th 2012.



© 2002 - 2013
Stereoboard.com
. All rights reserved. All images, audio, and video clips are the sole property and copyright of their respective owners. No unauthorised use of any original content on this site without permission.
Stereoboard.com is developed & maintained by Eyedigit Limited, 42a Station Road, Llanishen, Cardiff CF14 5LT. Registered in England & Wales - Company #: 06931695.
Terms of Use, Privacy & Cookie Policy
|
Contact Information