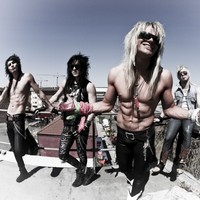 Looking for tickets for upcoming Reckless Love tour dates or events? We compare prices of Reckless Love concert tickets from official primary & trusted secondary sources, providing a legitimate & safe comparison for finding cheap tickets for Reckless Love and ensuring you avoid bogus ticketing websites.

Compare & track Reckless Love tour dates and ticket prices at Stereoboard! Finding the cheapest Reckless Love tickets is quick and easy - we search some of the major UK agencies and ticket exchanges, including Gigantic, Eventim, Stargreen, Ticketline, Seatwave & Viagogo - to bring you the cheapest prices for all Reckless Love tickets, even if the Reckless Love event is sold out!
Sorry, we don't have any Reckless Love tour dates, events or tickets listed presently.

If you'd like to be kept informed on any future events, please register for our Reckless Love Tour and Ticket Updates. Simply leave your email details to receive our FREE weekly tour updates. You'll never miss any Reckless Love tour dates or events again!

Alternatively you can subscribe to our Reckless Love tour dates RSS feed in your news reader for daily Reckless Love tour updates.

Also please don't forget to check out the award winning Stereoboard.com while you're here!



RECKLESS LOVE BORN TO ROCK Short Sleeve T-Shirt

-

£5.00




RECKLESS LOVE BACK TO PARADISE Skinny Fit T-Shirt

-

£5.00




RECKLESS LOVE BACK TO PARADISE Short Sleeve T-Shirt

-

£5.00
For many, eighties rock bands were either shameless purveyors of joyfully uplifting party anthems or hairspray soaked, spandex wearing lady boys with as much musical depth as Darth Cowell's record collection. Either way, the nineties dawned and the world became serious. The global recession, AIDS and the arrival of grunge significantly changed the musical map, rendering debauched glam metal acts outdated and tasteless. Since then 'hair metal' has thrived in a cult capacity, gaining momentum over the last decade as bands inspired by Motley Crue and their ilk have spread like fire gone wild. Finnish four piece Reckless Love are on a particular mission to resurrect the hedonistic traditions of Los Angeles infamous Sunset Strip, delivering stiletto sharp riffs, bombastic choruses and lascivious lyrics with minimum subtlety. It's as cheesy as Mr McCheese's cheese making factory in cheese land, but also a nice reminder of a carefree time when life wasn't quite so po-faced.

Reckless Love, the colourful Finnish rockers whose second 'Animal Attraction' album was released via Spinefarm Records in the autumn of 2011, have confirmed the line-ups for their four residency shows at the London Barfly in October.

Having announced a full UK tour – which includes a residency at London's Barfly – back in May, Finnish 'merry metallers' Reckless Love have confirmed the release of a new eight-song mini-album ahead of the dates for October 1st via Spinefarm Records.





SITE LINKS




SITE INFO

TOP SELLING TICKETS




LATEST ANNOUNCEMENTS

FOLLOW US FOR LIVE UPDATES


© 2002 - 2013
Stereoboard.com
. All rights reserved. All images, audio, and video clips are the sole property and copyright of their respective owners. No unauthorised use of any original content on this site without permission.
Stereoboard.com is developed & maintained by Eyedigit Limited, 42a Station Road, Llanishen, Cardiff CF14 5LT. Registered in England & Wales - Company #: 06931695.
Terms of Use, Privacy & Cookie Policy
|
Contact Information