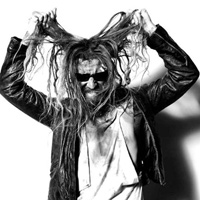 Rob Zombie will be performing in Atlanta, check the dates below! Check below to find Rob Zombie tickets in Atlanta. If you'd like to see a list of all Rob Zombie tour dates, please
CLICK HERE
.
Sorry, we don't have any Rob Zombie tour dates, events or tickets listed presently.

If you'd like to be kept informed on any future events, please register for our Rob Zombie Tour and Ticket Updates. Simply leave your email details to receive our FREE weekly tour updates. You'll never miss any Rob Zombie tour dates or events again!

Alternatively you can subscribe to our Rob Zombie tour dates RSS feed in your news reader for daily Rob Zombie tour updates.

Also please don't forget to check out the award winning Stereoboard.com while you're here!
Recent Rob Zombie News Articles



ROB ZOMBIE BOOGIE MAN Short Sleeve T-Shirt

-

£15.00




ROB ZOMBIE SATAN Short Sleeve T-Shirt

-

£15.00




ROB ZOMBIE HEAD UNTIL DEAD Short Sleeve T-Shirt

-

£15.00




ROB ZOMBIE COWBOY SKULL Short Sleeve T-Shirt

-

£15.00




ROB ZOMBIE BLOODY ROB Short Sleeve T-Shirt

-

£15.00




ROB ZOMBIE BLOOD KEEPS THEM ALIVE Short Sleeve T-Shirt

-

£15.00




ROB ZOMBIE ALICE COOPER Short Sleeve T-Shirt

-

£15.00




ROB ZOMBIE DEVIL SLESS Skinny Fit T-Shirt

-

£15.00
Rob Zombie's fifth solo album is a bit of a split work on first appearances. Abandoning the darkness of his previous album covers - yet keeping his face slap bang on the front - 'Venomous Rat Regeneration Vendor' looks more suited to being a 70s hippy-dippy revival, vividly colourful and pop-arty. Though that element seems to reflect the rainbow exuberance of his live shows, the music remains quintessentially sinister, thankfully.

A rock icon and auteur filmmaker, Rob Zombie has continuously challenged audiences as he stretches the boundaries of music, film, and publishing. Now, the seven-time Grammy-nominated recording artist releases his fifth solo album, 'Venomous Rat Regeneration Vendor', on April 22nd, and includes the first single, 'Dead City Radio and the New Gods of Super Town,' along with such tracks as 'Ging Gang Gong De Do Gong De Laga Raga,' 'Lucifer Rising,' 'Behold. The Pretty Filthy Creatures' and a heavy-duty cover of Grand Funk Railroad's 'We're an American Band.'

Before I use up every single superlative imaginable later on in this review, I feel like I should explain the foul mood looming over me as I entered the lavishly corporate O2 Arena last night. I was feeling a bit poorly and everything was annoying me. My train had been delayed by over an hour due to flooding. I didn't actually have my tickets for the show; I assume that my postman had pocketed them at some point (I always knew there was something shifty about him). To add insult to injury, the O2 wouldn't let me collect my duplicate tickets until twenty-five minutes before doors opened, so the prospect of a mile-long queue just made me very, very grumpy indeed. Basically, this gig needed to be brilliant.

While many of you shock rock and industrial metal fans thought that Rob Zombie and Marilyn Manson's massive co-headline tour had to happen, it seems like the match was not crafted in heaven - as the pair of musicians seem to have had a bit of a falling out following some of their recent shows.

The twins of evil, Rob Zombie and Marilyn Manson are teaming up for a co-headline UK tour this November. Rob Zombie And Marilyn Manson Tickets are ON SALE 9AM TODAY, Friday 27th July.





SITE LINKS




SITE INFO

TOP SELLING TICKETS




LATEST ANNOUNCEMENTS

FOLLOW US FOR LIVE UPDATES


© 2002 - 2013
Stereoboard.com
. All rights reserved. All images, audio, and video clips are the sole property and copyright of their respective owners. No unauthorised use of any original content on this site without permission.
Stereoboard.com is developed & maintained by Eyedigit Limited, 42a Station Road, Llanishen, Cardiff CF14 5LT. Registered in England & Wales - Company #: 06931695.
Terms of Use, Privacy & Cookie Policy
|
Contact Information