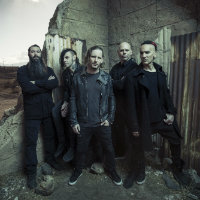 Stone Sour will be performing in Bournemouth, check the dates below! Check below to find Stone Sour tickets in Bournemouth. If you'd like to see a list of all Stone Sour tour dates, please
CLICK HERE
.
Sorry, we don't have any Stone Sour tour dates, events or tickets listed presently.

If you'd like to be kept informed on any future events, please register for our Stone Sour Tour and Ticket Updates. Simply leave your email details to receive our FREE weekly tour updates. You'll never miss any Stone Sour tour dates or events again!

Alternatively you can subscribe to our Stone Sour tour dates RSS feed in your news reader for daily Stone Sour tour updates.

Also please don't forget to check out the award winning Stereoboard.com while you're here!
Recent Stone Sour News Articles



Stone Sour Pyramid T-Shirt

-

£16.49




Stone Sour Grey One USA Import T Shirt

-

£16.49
Iíll be honest, aside from 'Get Inside' and 'Bother', both songs from over ten years ago, Iíd never really bothered listening to Stone Sour before this album entered my inbox. I always knew they were good, but they just never entered my radar somehow. Now, Iím buying the entire back catalogue. That is how good this is.

Stone Sour have pulled quite a blinder. Where many struggle to pull off one concept record, they've opted for two - and part one is a pretty solid start. Bringing their promotion to the UK for two headline London shows before continuing around the country, Josh took some time out to talk about their current tour, their latest record and that pending second instalment.

Stone Sour are a force unto themselves. Finally hitting the road to promote their new record 'House of Gold and Bones Part 1', the first instalment of their double concept record, the band thought they'd make their London shows that extra bit special - why not throw Sacramento rap-rock kings Papa Roach in as support?

Grammy-nominated rockers Stone Sour released the first half of their double album, ĎHouse of Gold & Bones, Part 1í through Roadrunner Records on 22nd October 2012. The second part will be released in March 2013. The albums were recorded at Sound Farm Studios, near their native Des Moines, IA with producer David Bottrill (Tool, Muse).

Bold declarations can often oversell an album, but then again it's a pretty ballsy move when it's in the recording stages. But, Corey Taylor does not care to play it safe with his statements, and his comparison of this record to a cross between Alice In Chains' 'Dirt' and Punk Floyd's 'The Wall' at least proclaimed that the first instalment of their double record 'House of Gold and Bones' was to be different, for Stone Sour.



© 2002 - 2013
Stereoboard.com
. All rights reserved. All images, audio, and video clips are the sole property and copyright of their respective owners. No unauthorised use of any original content on this site without permission.
Stereoboard.com is developed & maintained by Eyedigit Limited, 42a Station Road, Llanishen, Cardiff CF14 5LT. Registered in England & Wales - Company #: 06931695.
Terms of Use, Privacy & Cookie Policy
|
Contact Information