Compare & Buy Aladdin The Musical Plymouth Tickets at Stereoboard. Ticket prices may be above, below or at face value.
Aladdin The Musical at Plymouth Theatre Royal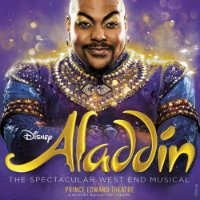 Disney's Aladdin has "landed triumphantly in London's West End" (Daily Telegraph). Featuring all the songs from the Academy Award-winning classic film, this "shining, shimmering spectacle" (Huffington Post) is everything you could wish for and more.
Aladdin The Musical will be performing

26 events

in Plymouth
between Wednesday 17th January 2024 and Sunday 11th February 2024 at the Theatre Royal.



Official

Aladdin The Musical


Plymouth, Theatre Royal

price




tbc




Official

Aladdin The Musical


Plymouth, Theatre Royal

price




tbc




Official

Aladdin The Musical


Plymouth, Theatre Royal

price




tbc




Official

Aladdin The Musical


Plymouth, Theatre Royal

price




tbc




Official

Aladdin The Musical


Plymouth, Theatre Royal

price




tbc




Official

Aladdin The Musical


Plymouth, Theatre Royal

price




tbc




Official

Aladdin The Musical


Plymouth, Theatre Royal

price




tbc




Official

Aladdin The Musical


Plymouth, Theatre Royal

price




tbc




Official

Aladdin The Musical


Plymouth, Theatre Royal

price




tbc




Official

Aladdin The Musical


Plymouth, Theatre Royal

price




tbc




Official

Aladdin The Musical


Plymouth, Theatre Royal

price




tbc




Official

Aladdin The Musical


Plymouth, Theatre Royal

price




tbc




Official

Aladdin The Musical


Plymouth, Theatre Royal

price




tbc




Official

Aladdin The Musical


Plymouth, Theatre Royal

price




tbc




Official

Aladdin The Musical


Plymouth, Theatre Royal

price




tbc




Official

Aladdin The Musical


Plymouth, Theatre Royal

price




tbc




Official

Aladdin The Musical


Plymouth, Theatre Royal

price




tbc




Official

Aladdin The Musical


Plymouth, Theatre Royal

price




tbc




Official

Aladdin The Musical


Plymouth, Theatre Royal

price




tbc




Official

Aladdin The Musical


Plymouth, Theatre Royal

price




tbc




Official

Aladdin The Musical


Plymouth, Theatre Royal

price




tbc




Official

Aladdin The Musical


Plymouth, Theatre Royal

price




tbc




Official

Aladdin The Musical


Plymouth, Theatre Royal

price




tbc




Official

Aladdin The Musical


Plymouth, Theatre Royal

price




tbc




Official

Aladdin The Musical


Plymouth, Theatre Royal

price




tbc




Official

Aladdin The Musical


Plymouth, Theatre Royal

price




tbc

Did you miss out on tickets? Join the Waitlist now to be informed when new shows are confirmed.

JOIN THE WAITLIST

Staying the night in Plymouth? Find somewhere near Plymouth's Theatre Royal for this Aladdin The Musical show. Explore your options on the map above or hotel listings below and Book Your (Fully Refundable) Concert Hotel Today!

---