Compare & Buy Eric Clapton London Tickets at Stereoboard. Ticket prices may be above, below or at face value.
Eric Clapton at London Royal Albert Hall
209 fans have viewed Eric Clapton tickets today!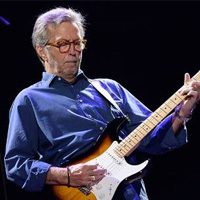 Eric Clapton is a singer-songwriter and guitarist from Surrey.
Eric Clapton will be performing

4 events

in London
between Monday 20th May 2024 and Friday 24th May 2024 at the Royal Albert Hall.



Official

Eric Clapton Tickets and VIP Experience


London, Royal Albert Hall

from


£196.

87

inc fees




Official

Eric Clapton


London, Royal Albert Hall

from


£152.

55

inc fees




Official

Eric Clapton VIP EXPERIENCE


London, Royal Albert Hall

from


£459.

00

inc fees




Official

Eric Clapton


London, Royal Albert Hall

price




tbc




Official

Eric Clapton Hospitality Packages


London, Royal Albert Hall

from


£459.

00

inc fees




Resale

Eric Clapton


London, London Royal Albert Hall


Tickets available: 58

from


£236.

62

inc fees




Resale

Eric Clapton


London, Royal Albert Hall


Tickets available: 288

from


£264.

11

inc fees




Resale

Eric Clapton


London, Royal Albert Hall

from


£266.

18

inc fees




Resale

Eric Clapton Floor Blocks Only


London, Royal Albert Hall

from


£285.

00

inc fees




Official

Eric Clapton Tickets and VIP Experience


London, Royal Albert Hall

from


£196.

87

inc fees




Official

Eric Clapton


London, Royal Albert Hall

from


£152.

55

inc fees




Official

Eric Clapton VIP EXPERIENCE


London, Royal Albert Hall

from


£459.

00

inc fees




Official

Eric Clapton


London, Royal Albert Hall

price




tbc




Official

Eric Clapton Hospitality Packages


London, Royal Albert Hall

from


£459.

00

inc fees




Resale

Eric Clapton


London, Royal Albert Hall


Tickets available: 420

from


£204.

68

inc fees




Resale

Eric Clapton


London, Royal Albert Hall

from


£234.

89

inc fees




Resale

Eric Clapton Floor Blocks Only


London, Royal Albert Hall

from


£239.

00

inc fees




Resale

Eric Clapton


London, London Royal Albert Hall


Tickets available: 124

from


£244.

97

inc fees




Official

Eric Clapton


London, Royal Albert Hall

from


£151.

87

inc fees




Official

Eric Clapton


London, Royal Albert Hall

from


£152.

55

inc fees




Official

Eric Clapton VIP EXPERIENCE


London, Royal Albert Hall

from


£459.

00

inc fees




Official

Eric Clapton EXTRA DATE ADDED


London, Royal Albert Hall

price




tbc




Official

Eric Clapton Hospitality Packages


London, Royal Albert Hall

from


£459.

00

inc fees




Resale

Eric Clapton


London, London Royal Albert Hall


Tickets available: 87

from


£220.

10

inc fees




Resale

Eric Clapton


London, Royal Albert Hall

from


£220.

29

inc fees




Resale

Eric Clapton


London, Royal Albert Hall


Tickets available: 416

from


£222.

55

inc fees




Resale

Eric Clapton Floor Blocks Only


London, Royal Albert Hall

from


£285.

00

inc fees




Official

Eric Clapton


London, Royal Albert Hall

from


£151.

87

inc fees




Official

Eric Clapton


London, Royal Albert Hall

from


£152.

55

inc fees




Official

Eric Clapton VIP EXPERIENCE


London, Royal Albert Hall

from


£459.

00

inc fees




Official

Eric Clapton EXTRA DATE ADDED


London, Royal Albert Hall

price




tbc




Official

Eric Clapton Hospitality Packages


London, Royal Albert Hall

from


£459.

00

inc fees




Resale

Eric Clapton Floor Blocks Only


London, Royal Albert Hall

from


£249.

00

inc fees




Resale

Eric Clapton


London, Royal Albert Hall


Tickets available: 283

from


£260.

92

inc fees




Resale

Eric Clapton


London, London Royal Albert Hall


Tickets available: 56

from


£280.

83

inc fees




Resale

Eric Clapton


London, Royal Albert Hall

from


£287.

41

inc fees

Did you miss out on tickets? Join the Waitlist now to be informed when new shows are confirmed.

JOIN THE WAITLIST

Staying the night in London? Find somewhere near London's Royal Albert Hall for this Eric Clapton show. Explore your options on the map above or hotel listings below and Book Your (Fully Refundable) Concert Hotel Today!

---

Address: London Royal Albert Hall, Kensington Gore, London, SW7 2AP
Telephone: 08454015034
Venue Capacity: 5272