Compare & Buy Highly Suspect Tickets at Stereoboard. Ticket prices may be above, below or at face value.
Highly Suspect at
Last Updated: 11 Sep 2023 2:54pm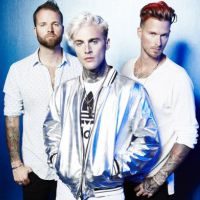 Highly Suspect are a rock band from Cape Cod, Massachusetts.

Formed in 2009, the band have released four studio albums to date including, most recently, 'The Midnight Demon Club' in 2022. They have received a number of the industry's biggest honours for their work, including three Grammy nominations.

As well as headlining their own shows, the band have also bagged support slots for likes of Muse, Deftones, Chevelle, Halestorm and Catfish & The Bottlemen.

Highly Suspect will tour the UK in September 2023, before heading across Australia in November. Catch them live by checking tour dates and ticket information below on Stereoboard.


INTERNATIONAL EVENTS



Official

Highly Suspect | Carr | Good Boy Daisy


Boise, Knitting Factory - Boise

from


£27.

89

plus fees




Resale

Highly Suspect


Boise, Knitting Factory Concert House - Boise


Tickets available: 29

from


£43.

03

inc fees




Resale

Highly Suspect


Boise, Knitting Factory Boise


Tickets available: 29

from


£55.

12

inc fees




Resale

Highly Suspect


Boise, Knitting Factory Concert House Boise

from


£57.

18

inc fees




Resale

Highly Suspect


Boise, Knitting Factory Boise


Tickets available: 30

from


£65.

18

inc fees




Resale

Highly Suspect


Boise, Knitting Factory Concert House - Boise

from


£71.

38

inc fees




Official

Highly Suspect


Sacramento, Ace of Spades

from


£27.

89

plus fees




Resale

Highly Suspect


Sacramento, Ace of Spades


Tickets available: 59

from


£78.

10

inc fees




Resale

Highly Suspect


Sacramento, Ace of Spades

from


£79.

85

inc fees




Resale

Highly Suspect


Sacramento, Ace of Spades

from


£94.

28

inc fees




Resale

Highly Suspect


Sacramento, Ace of Spades


Tickets available: 90

from


£97.

51

inc fees




Resale

Highly Suspect


Sacramento, Ace of Spades


Tickets available: 93

from


£106.

67

inc fees




Resale

Highly Suspect


San Francisco, Great American Music Hall


Tickets available: 65

from


£37.

10

inc fees




Resale

Highly Suspect


San Francisco, Great American Music Hall


Tickets available: 69

from


£46.

48

inc fees




Resale

Highly Suspect


San Francisco, Great American Music Hall


Tickets available: 71

from


£47.

82

inc fees




Resale

Highly Suspect


San Francisco, Great American Music Hall

from


£49.

29

inc fees




Resale

Highly Suspect


San Francisco, Great American Music Hall

from


£60.

12

inc fees




Resale

Highly Suspect


Los Angeles, Troubadour

from


£79.

85

inc fees




Resale

Highly Suspect


Los Angeles, Troubadour


Tickets available: 32

from


£81.

61

inc fees




Resale

Highly Suspect


Los Angeles, Troubadour


Tickets available: 32

from


£89.

47

inc fees




Resale

Highly Suspect


Los Angeles, Troubadour

from


£98.

37

inc fees




Resale

Highly Suspect


Los Angeles, Troubadour


Tickets available: 20

from


£74.

91

inc fees




Resale

Highly Suspect


Los Angeles, Troubadour

from


£74.

92

inc fees




Resale

Highly Suspect


Los Angeles, Troubadour


Tickets available: 29

from


£78.

43

inc fees




Resale

Highly Suspect


Los Angeles, Troubadour


Tickets available: 31

from


£85.

98

inc fees




Resale

Highly Suspect


Los Angeles, Troubadour

from


£91.

87

inc fees




Resale

Highly Suspect


St Petersburg, Jannus Live


Tickets available: 123

from


£52.

60

inc fees




Resale

Highly Suspect


St Petersburg, Jannus Live

from


£63.

39

inc fees




Official

Highly Suspect | Dead Poet Society


Fort Lauderdale, Revolution Live

from


£27.

49

plus fees




Resale

Highly Suspect


Fort Lauderdale, Revolution Live

from


£46.

33

inc fees




Resale

Highly Suspect


Fort Lauderdale, Revolution Live


Tickets available: 134

from


£47.

02

inc fees




Resale

Highly Suspect


Fort Lauderdale, Revolution Live

from


£56.

98

inc fees




Resale

Highly Suspect


Fort Lauderdale, Revolution Live


Tickets available: 322

from


£57.

24

inc fees




Resale

Highly Suspect


Fort Lauderdale, Revolution Live


Tickets available: 335

from


£62.

74

inc fees

We work ONLY with the leading trusted ticket resellers in the USA - Buy tickets with peace of mind at Stereoboard!

Did you miss out on tickets? Join the Waitlist now to be informed when new shows are confirmed.

JOIN THE WAITLIST

Staying the night in ? Find somewhere near 's Revolution Live for this Highly Suspect show. Explore your options on the map above or hotel listings below and Book Your (Fully Refundable) Concert Hotel Today!

---