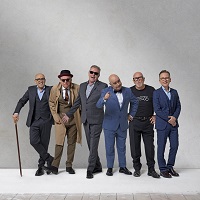 Madness will be performing in Cardiff, check the dates below! Check below to find Madness tickets in Cardiff. If you'd like to see a list of all Madness tour dates, please
CLICK HERE
.
Sorry, we don't have any Madness tour dates, events or tickets listed presently.

If you'd like to be kept informed on any future events, please register for our Madness Tour and Ticket Updates. Simply leave your email details to receive our FREE weekly tour updates. You'll never miss any Madness tour dates or events again!

Alternatively you can subscribe to our Madness tour dates RSS feed in your news reader for daily Madness tour updates.

Also please don't forget to check out the award winning Stereoboard.com while you're here!
Recent Madness News Articles



MADNESS LONDON Short Sleeve T-Shirt

-

£15.00




MADNESS SILHOUETTE CHEQUES Short Sleeve T-Shirt

-

£15.00




MADNESS FUCK ART LETS DANCE (BLUE) Short Sleeve T-Shirt

-

£15.00




MADNESS ONE STEP RED LOGO Short Sleeve T-Shirt

-

£15.00




MADNESS ONE STEP BEYOND Short Sleeve T-Shirt

-

£15.00
It has today been confirmed that Madness's latest studio album 'Oui, Oui, Si, Si, Ja, Ja, Da, Da' has smashed through the 100,000 mark, making it officially gold status. The album was released on the 29th October 2012 and has had two singles released from it, with the third, 'How Can I Tell You' coming on April 8th.

Madness have announced details for their biggest show of 2013, so far. The British legends will perform at London's Alexandra Palace on 28th September.

Following their sold out 2012 arena tour, British legends Madness have today confirmed they will be touring a number of classic British events over the summer. The band will take in ten shows ranging from Gosforth Park Racecourse, Sandown Park Racecourse, Newmarket and Northampton County Cricket Ground between June and September.

If you're ever feeling bogged down with the amount of work you have to do, you really should have a quiet word with the lads from Madness. 2012 has been a stupendously hectic year for our favourite nutty boys; performing on top of Buckingham Palace, at the Olympic Closing Ceremony and a plethora of outdoor concerts was only a warm up for their extensive 'Charge Of The Mad Brigade' tour kicking off next week (yes, that was a shameless plug. Buy tickets here). All of this was achieved whilst the band were beavering away at their tenth full-length studio effort 'Oui, Oui, Si, Si, Ja, Ja, Da, Da'. After their sumptuously conceptual 2009 masterpiece 'The Liberty Of Norton Folgate' was heralded by many as the best output of their entire career, Madness had one hell of an act to follow.

London nutty boys Madness kick-off their 'Charge Of The Mad Brigade' winter UK tour next week. If you're heading to the opening night, in Cardiff, you wont want to miss the official pre-show and aftershow party at Cardiff Walkabout.



© 2002 - 2013
Stereoboard.com
. All rights reserved. All images, audio, and video clips are the sole property and copyright of their respective owners. No unauthorised use of any original content on this site without permission.
Stereoboard.com is developed & maintained by Eyedigit Limited, 42a Station Road, Llanishen, Cardiff CF14 5LT. Registered in England & Wales - Company #: 06931695.
Terms of Use, Privacy & Cookie Policy
|
Contact Information