Compare & Buy Enhypen Newark Tickets at Stereoboard. Ticket prices may be above, below or at face value.
Enhypen at Newark Prudential Center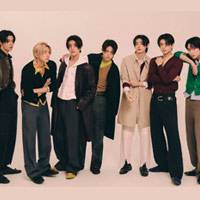 Enhypen are a boyband from Seoul, South Korea.
Enhypen will be performing

2 events

in Newark
between Wednesday 18th October 2023 and Thursday 19th October 2023 at the Prudential Center.



Official

ENHYPEN


Newark, Prudential Center

from


£53.

38

plus fees




Resale

ENHYPEN


Newark, Prudential Center


Tickets available: 3087

from


£43.

90

inc fees




Resale

ENHYPEN


Newark, Prudential Center

from


£44.

25

inc fees




Resale

ENHYPEN


Newark, Prudential Center

from


£54.

45

inc fees




Resale

ENHYPEN


Newark, Prudential Center


Tickets available: 4947

from


£56.

89

inc fees




Resale

ENHYPEN


Newark, Prudential Center


Tickets available: 4947

from


£62.

36

inc fees




Official

ENHYPEN


Newark, Prudential Center

from


£53.

38

plus fees




Resale

ENHYPEN


Newark, Prudential Center

from


£35.

20

inc fees




Resale

ENHYPEN


Newark, Prudential Center


Tickets available: 1977

from


£36.

58

inc fees




Resale

ENHYPEN


Newark, Prudential Center

from


£42.

27

inc fees




Resale

ENHYPEN


Newark, Prudential Center


Tickets available: 4006

from


£61.

06

inc fees




Resale

ENHYPEN


Newark, Prudential Center


Tickets available: 4006

from


£66.

94

inc fees

We work ONLY with the leading trusted ticket resellers in the USA - Buy tickets with peace of mind at Stereoboard!

Did you miss out on tickets? Join the Waitlist now to be informed when new shows are confirmed.

JOIN THE WAITLIST

Staying the night in Newark? Find somewhere near Newark's Prudential Center for this Enhypen show. Explore your options on the map above or hotel listings below and Book Your (Fully Refundable) Concert Hotel Today!

---