Compare & Buy All Time Low Portland Tickets at Stereoboard. Ticket prices may be above, below or at face value.
All Time Low at Portland Roseland Theater
295 fans have viewed All Time Low tickets today!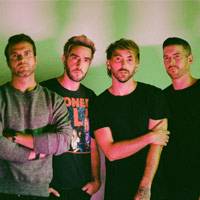 All Time Low are a pop-punk band from Towson, Maryland, consisting of Alex Gaskarth, Jack Barakat, Zack Merrick and Rian Dawson.
All Time Low will be performing

1 event

in Portland
on Tuesday 17th October 2023 at the Roseland Theater.
Sorry, we don't have any All Time Low tour dates, events or tickets listed at the moment.

If you'd like to be kept informed on any future All Time Low tickets & events, please register for our Tour Newsletter below for weekly updates.
Did you miss out on tickets? Join the Waitlist now to be informed when new shows are confirmed.
JOIN THE WAITLIST
Staying the night in Portland? Find somewhere near Portland's for this All Time Low show. Explore your options on the map above or hotel listings below and Book Your (Fully Refundable) Concert Hotel Today!
---