Compare & Buy Disney On Ice Newcastle upon tyne Tickets at Stereoboard. Ticket prices may be above, below or at face value.
Disney On Ice at Newcastle Upon Tyne Utilita Arena
430 fans have viewed Disney On Ice tickets today!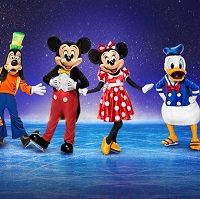 Disney on Ice is a live show created by Disney that sees their best loved characters perform on ice. First starting in 1981 under the name Walt Disney's World on Ice, it's grown into a worldwide ice-rink phenomenon.
Disney On Ice will be performing

5 events

in Newcastle Upon Tyne
between Wednesday 6th December 2023 and Sunday 10th December 2023 at the Utilita Arena.



Official

Disney On Ice presents 100 Years of Wonder


Newcastle Upon Tyne, Utilita Arena Newcastle

from


£26.

35

inc fees




Official

Disney on Ice presents 100 Years of Wonder


Newcastle Upon Tyne, Utilita Arena

from


£29.

90

inc fees




Official

Disney on Ice presents 100 Years of Wonder


Newcastle Upon Tyne, Utilita Arena Newcastle

from


£25.

95

inc fees




Official

Disney On Ice presents 100 Years of Wonder


Newcastle Upon Tyne, Utilita Arena Newcastle

from


£28.

55

inc fees




Official

Disney on Ice presents 100 Years of Wonder


Newcastle Upon Tyne, Utilita Arena

from


£32.

20

inc fees




Official

Disney on Ice presents 100 Years of Wonder


Newcastle Upon Tyne, Utilita Arena Newcastle

from


£28.

50

inc fees




Official

Disney On Ice presents 100 Years of Wonder


Newcastle Upon Tyne, Utilita Arena Newcastle

from


£34.

05

inc fees




Official

Disney on Ice presents 100 Years of Wonder


Newcastle Upon Tyne, Utilita Arena

from


£37.

95

inc fees




Official

Disney on Ice presents 100 Years of Wonder


Newcastle Upon Tyne, Utilita Arena Newcastle

from


£33.

95

inc fees




Official

Disney On Ice presents 100 Years of Wonder


Newcastle Upon Tyne, Utilita Arena Newcastle

from


£39.

55

inc fees




Official

Disney on Ice presents 100 Years of Wonder


Newcastle Upon Tyne, Utilita Arena

from


£43.

70

inc fees




Official

Disney on Ice presents 100 Years of Wonder


Newcastle Upon Tyne, Utilita Arena Newcastle

from


£39.

50

inc fees




Official

Disney On Ice presents 100 Years of Wonder


Newcastle Upon Tyne, Utilita Arena Newcastle

from


£39.

55

inc fees




Official

Disney on Ice presents 100 Years of Wonder


Newcastle Upon Tyne, Utilita Arena

from


£43.

70

inc fees




Official

Disney on Ice presents 100 Years of Wonder


Newcastle Upon Tyne, Utilita Arena Newcastle

from


£39.

50

inc fees

Did you miss out on tickets? Join the Waitlist now to be informed when new shows are confirmed.

JOIN THE WAITLIST

Staying the night in Newcastle Upon Tyne? Find somewhere near Newcastle Upon Tyne's Utilita Arena for this Disney On Ice show. Explore your options on the map above or hotel listings below and Book Your (Fully Refundable) Concert Hotel Today!

---

Address: Newcastle Upon Tyne Utilita Arena, Arena Way, Newcastle Upon Tyne, NE4 7NA
Telephone: 08444936666
Venue Capacity: 11000