Compare & Buy Take That Birmingham Tickets at Stereoboard. Ticket prices may be above, below or at face value.
Take That at Birmingham Utilita Arena
943 fans have viewed Take That tickets today!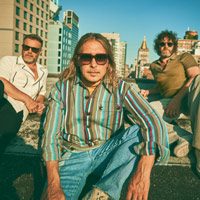 Take That are a pop group from Manchester, currently consisting of Gary Barlow, Mark Owen and Howard Donald, with both Jason Orange and Robbie Williams having departed the group.
Take That will be performing

6 events

in Birmingham
between Tuesday 14th May 2024 and Monday 20th May 2024 at the Utilita Arena.



Official

Take That This Life On Tour


Birmingham, Utilita Arena

from


£69.

05

inc fees




Official

Take That


Birmingham, Utilita Arena

from


£68.

80

inc fees




Official

Take That This Life On Tour


Birmingham, Utilita Arena Birmingham

price




tbc




Fan2Fan

Take That


Birmingham, Utilita Arena Birmingham


Tickets available: 38

from


£69.

00

inc fees




Resale

Take That


Birmingham, Utilita Arena Birmingham

from


£104.

89

inc fees




Resale

Take That


Birmingham, Utilita Arena Birmingham (Formerly Birmingham Arena)


Tickets available: 199

from


£105.

83

inc fees




Resale

Take That


Birmingham, Utilita Arena Birmingham


Tickets available: 28

from


£125.

76

inc fees




Official

Take That This Life On Tour


Birmingham, Utilita Arena

from


£69.

05

inc fees




Official

Take That


Birmingham, Utilita Arena

from


£68.

80

inc fees




Official

Take That This Life On Tour


Birmingham, Utilita Arena Birmingham

price




tbc




Resale

Take That


Birmingham, Utilita Arena Birmingham (Formerly Birmingham Arena)


Tickets available: 188

from


£102.

34

inc fees




Fan2Fan

Take That


Birmingham, Utilita Arena Birmingham


Tickets available: 36

from


£103.

50

inc fees




Resale

Take That


Birmingham, Utilita Arena Birmingham

from


£104.

89

inc fees




Resale

Take That


Birmingham, Utilita Arena Birmingham


Tickets available: 19

from


£149.

71

inc fees




Official

Take That This Life On Tour


Birmingham, Utilita Arena

from


£69.

05

inc fees




Official

Take That


Birmingham, Utilita Arena

from


£68.

80

inc fees




Official

Take That This Life On Tour


Birmingham, Utilita Arena Birmingham

price




tbc




Fan2Fan

Take That


Birmingham, Utilita Arena Birmingham


Tickets available: 20

from


£92.

00

inc fees




Resale

Take That


Birmingham, Utilita Arena Birmingham

from


£119.

55

inc fees




Resale

Take That


Birmingham, Utilita Arena Birmingham (Formerly Birmingham Arena)


Tickets available: 158

from


£167.

36

inc fees




Resale

Take That


Birmingham, Utilita Arena Birmingham


Tickets available: 3

from


£359.

32

inc fees




Official

Take That This Life On Tour


Birmingham, Utilita Arena

from


£69.

05

inc fees




Official

Take That


Birmingham, Utilita Arena

from


£68.

80

inc fees




Official

Take That This Life On Tour


Birmingham, Utilita Arena Birmingham

price




tbc




Fan2Fan

Take That


Birmingham, Utilita Arena Birmingham


Tickets available: 9

from


£103.

50

inc fees




Resale

Take That


Birmingham, Utilita Arena Birmingham


Tickets available: 30

from


£137.

73

inc fees




Resale

Take That


Birmingham, Utilita Arena Birmingham

from


£153.

54

inc fees




Resale

Take That


Birmingham, Utilita Arena Birmingham (Formerly Birmingham Arena)


Tickets available: 232

from


£166.

15

inc fees




Official

Take That This Life On Tour


Birmingham, Utilita Arena

from


£69.

05

inc fees




Official

Take That


Birmingham, Utilita Arena

from


£68.

80

inc fees




Official

Take That This Life On Tour


Birmingham, Utilita Arena Birmingham

price




tbc




Fan2Fan

Take That


Birmingham, Utilita Arena Birmingham


Tickets available: 20

from


£79.

12

inc fees




Resale

Take That


Birmingham, Utilita Arena Birmingham

from


£106.

28

inc fees




Resale

Take That


Birmingham, Utilita Arena Birmingham (Formerly Birmingham Arena)


Tickets available: 264

from


£113.

18

inc fees




Resale

Take That


Birmingham, Utilita Arena Birmingham


Tickets available: 11

from


£215.

59

inc fees




Official

Take That This Life On Tour


Birmingham, Utilita Arena

from


£69.

05

inc fees




Official

Take That


Birmingham, Utilita Arena

from


£68.

80

inc fees




Official

Take That This Life On Tour


Birmingham, Utilita Arena Birmingham

price




tbc




Fan2Fan

Take That


Birmingham, Utilita Arena Birmingham


Tickets available: 4

from


£103.

50

inc fees




Resale

Take That


Birmingham, Utilita Arena Birmingham (Formerly Birmingham Arena)


Tickets available: 198

from


£111.

25

inc fees




Resale

Take That


Birmingham, Utilita Arena Birmingham

from


£125.

75

inc fees




Resale

Take That


Birmingham, Utilita Arena Birmingham


Tickets available: 23

from


£161.

69

inc fees

Did you miss out on tickets? Join the Waitlist now to be informed when new shows are confirmed.

JOIN THE WAITLIST

Staying the night in Birmingham? Find somewhere near Birmingham's Utilita Arena for this Take That show. Explore your options on the map above or hotel listings below and Book Your (Fully Refundable) Concert Hotel Today!

---

Address: Birmingham Utilita Arena, King Edwards Road, Birmingham, B1 2AA
Telephone: 01217804141
Venue Capacity: 14150